"Overcoming obstacles is about believing and knowing you will get past them."
Grand Master Kyung Sup Kim

Grand Master Kyung Sup Kim
Grand Master Kyung Sup Kim is the owner, operator and instructor of the SMS Tae Kwon Do school in New York City. He has been teaching students of all ages and nationalities for over forty years, instructing both traditional and modern forms in the style of the World Tae Kwon Do Federation. The school has been in operation for over twenty years in midtown Manhattan and is a proud member of The World Tae Kwon Do Federation.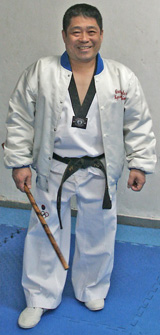 Master Kim has been a pioneer and influence in the development of Tae Kwon Do in Korea, the United States and internationally. He trained under the instruction of Lee Byung Ro and renowned Grand Master, Chong Woo Lee, who was also an original director of the Korea Tae Kwon Do Association, the first official Tae Kwon Do organization. Master Kim has followed in the martial arts tradition of learning and perfecting skills for healing the body. He is also an expert in acupuncture, acupressure, meditation and oriental herb remedies.
Master Kim is instantly recognizable on Korean Way in midtown Manhattan, not just as a regular face but also memorable for his unusual lack of height. While he is short in stature, his booming voice and extraordinarily powerful hands more than compensate. You can read his inspirational story, which was published in the Tae Kwon Do Times in September 1996.